Established in 2003

Mobility Dogs

mission is:
"to enhance the lives of people living with physical disabilities; increasing independence, confidence, self-esteem and participation in New Zealand communities"
through the training of assistance dogs.
Mobility Dogs

are trained to provide functional assistance with everyday tasks for those living with physical disabilities including:
fetching the phone

retrieving dropped items and items out of reach

barking for help

opening doors

pressing lift and pedestrian crossing buttons

paying for purchases across the counter

loading and unloading washing machines and dryers

and more… depending on the recipient's needs
Mobility Dogs

not only increase independence but also offer companionship, a greater sense of security and a feeling of connectedness to the community.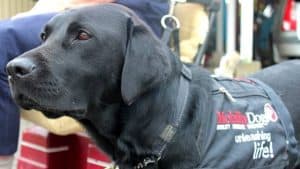 Service Dog provides support both in the home environment and out in the community with full public access rights.
Assist Dog provides support at home, and public access will be managed by a facilitator.
Skilled Companion Dog provides the support of a highly skilled pet and mitigates at least three aspects of disability.
Puppies with People – Mobility Dogs supporting in a variety of sectors: health and residential care, criminal justice, education in schools, physiotherapy psychologist/psychiatrist counselling services, emergency and victim services, and social workers, music therapist assistance.