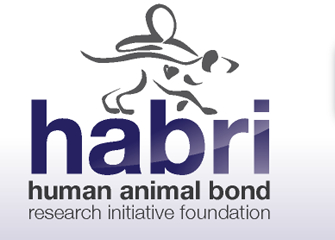 HABRI is calling for research proposals to investigate the health outcomes of pet ownership and/or animal-assisted activity or therapy, both for the people and the animals involved. HABRI is interested in proposals that involve a variety of animals (e.g. dogs, cats, fish, horses, reptiles, small animals). Approx. $200,000 will be available for multiple grants. It is expected that 5-10 grants will be awarded.
Proposals should focus on innovative approaches to studying the health effects of animals on humans within the following broad categories:
Child Health and Development

Healthy Aging

Mental Health and Wellness
Request for proposals addressing evidence-based health benefits of human-animal interaction deadline: Jan 27, 2016
HABRI Central

is a groundbreaking online hub that houses, classifies and archives research and information on the benefits of the human-animal bond. The center is maintained by Purdue University under the direction of the renowned scholar in human-animal bond studies, Dr. Alan Beck.
Tools like HABRI Central's

GeoSearch

allow you connect with human-animal interaction specialists and organizations from all around the globe.

HABRI Central is the a

comprehensive online hub

for human-animal bond research, with more than 20,000 entries including full-texts of peer-reviewed journal articles, books, white papers, videos, datasets, etc.
HABRI Central

resources

include veterinary medicine, nursing, psychology, sociology, law, academia, policymakers, and philosophy. The center houses and hosts user groups, blogs, expert video segments, newsletter, and more. Importantly, people from all disciplines are able to connect and share knowledge with others involved in the study of the human-animal bond.
HABRI Central Briefs

are peer-reviewed summaries of particular applications and issues within the field of human-animal interaction. Each Brief presents an overview of the subject matter, assesses the current state of research, and highlights unresolved questions or issues along with key resources for further reading.
Subjects for HABRI Central Briefs are selected by the

HABRI Central Editorial Board

based on their relevance, generalizability, and importance within the field of human-animal interaction. Current volumes explore: