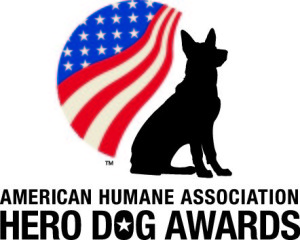 This annual national competition searches out and recognizes America's Hero Dogs, who unconditionally avail themselves to us in so many important ways, whether it's saving lives on the battlefield, lending sight or hearing to a human companion, providing therapeutic support to children suffering from cancer, or just greeting us with a wagging tail at the end of a hard day.
Heroic hounds may be nominated by anyone at least 18 years of age in one of eight categories:

Law Enforcement & Arson Dogs; Service Dogs; Therapy Dogs; Military Dogs; Guide Dogs; Search & Rescue Dogs; Hearing Dogs;

and

Emerging Hero Dogs

(for ordinary dogs who do extraordinary things or are just heroes to us).
Finalists in each category will be selected by the American public via online voting, and following the announcement of the eight finalists, the public and a special blue-ribbon celebrity judging panel will have the chance to name the top

American Hero Dog of 2015.
Every finalist will be presented with a Hero Dog award for their feats of loyalty, bravery, and love. In addition, one finalist will walk away with top honours as the winning American Hero Dog for 2015.
American Humane Association Hero Dog Awards™
takes place on 19 Sept 2015.
2014 Hero Dog – Bretagne
Over her long career, Bretagne has made a significant contribution to the Search & Rescue community not only through her many deployments including 9/11 World Trade Center – 2001, Olympic Winter Games – 2001, and Hurricane Rita – 2005, but through her talents as an ambassador of Search & Rescue Dogs.
Although Bretagne retired in 2008 from active Search & Rescue, her work is not done. She continues as an Ambassador for Search & Rescue dogs as she visits elementary schools where she helps 1st graders learn to read. As she prances into the school, her tail wagging, her fur highlighted with silver, she is always finding joy in work, and not letting her age define her. Bretagne is a Hero Dog.